Museums Winter Park, Florida
Museums Winter Park , Florida –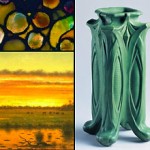 Morse Museum
The Charles Hosmer Morse Museum of American Art – The world's most comprehensive collection of works by Louis Comfort Tiffany (1848–1933) is housed at The Charles Hosmer Morse Museum of American Art. The Museum's Tiffany collection includes jewelry, pottery, paintings, art glass, leaded-glass windows and lamps, and the chapel interior the artist designed for the 1893 World's Columbian Exposition in Chicago. The Museum's holdings also include a major collection of American art pottery and representative collections of late 19th- and early 20th-century American painting, graphics, and decorative art.
The Polasek Museum – Founded in 1961, the Albin Polasek Museum & Sculp­ture Gar­dens holds an art col­lec­tion focus­ing pri­mar­ily on Amer­i­can rep­re­sen­ta­tional sculp­ture, with over 200 works by Czech-born Amer­i­can sculp­tor Albin Polasek. The museum offers guided tours of the his­toric Polasek res­i­dence and chapel, an out­door sculp­ture gar­den and a gift shop. The museum is the retire­ment home of 2004 Florida Artists Hall of Fame inductee Albin Polasek, is listed on the National Reg­is­ter of His­toric Places and is one of only 30 mem­bers of the National Trust's His­toric Artists' Homes and Studios.
Cornell Fine Arts Museum – Set like a jewel on the Rollins College campus overlooking beautiful Lake Virginia, the Cornell Fine Arts Museum offers visitors a sophisticated, intimate viewing experience in one of the nation's most innovative college art museums.
Original and traveling exhibitions change seasonally and feature outstanding works of art for all tastes, from the early Renaissance to cutting-edge contemporary. CFAM's original exhibitions are drawn from a broad range of paintings, prints, drawing, sculpture, and objects in the permanent collection that includes the works of Albert Bierstadt, Alex Katz, John Frederick Kensett, Henri Matisse, Thomas Moran, Pablo Picasso, Ed Ruscha, Tintoretto, and Tiepolo among many other artists.