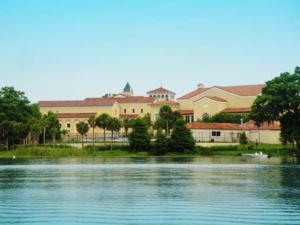 Rollin's College Family Weekend 2016 is almost upon us! The college looks forward to welcoming families to campus for this special weekend. Activities include spending time relaxing with your student, meeting with distinguished faculty members, and becoming better acquainted with the Rollins community! It's always a special weekend for all.
Thurston House Bed & Breakfast in Maitland has enjoyed hosting Rollin's parents for over 24 years now. Our location just 3 miles from the school, yet in a very quiet secluded location, makes us a prefect location to stay. Enjoy the activities in busy Winter Park, then come "home" to your lovely room, one of only 3 offered to guests. After a great nights sleep and an excellent full breakfast you will be ready to enjoy another full day with your family.
Rollin's College Family Weekend 2016 starts in two days. We unexpectedly received a cancellation for our most popular room, the O'Heir Room, the only one overlooking Lake Eulalia. Make your reservation NOW!