Culinary Vacation Package
Cooking School Culinary Vacation Package near Orlando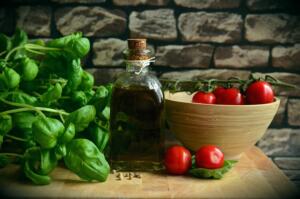 Imagine spending several days in a world where you get to relax, explore, learn, eat….actually be the "foodie" that you know you are. Here at Thurston House, a bed & breakfast near Orlando, we offer a one-of-a-kind culinary vacation experience. Owner/Innkeeper, Bev Fuller, leads our Central Florida cooking school and promises a fun, welcoming getaway.
As you arrive at Thurston House B&B, you're immediately enveloped in the peaceful seclusion of eight acres of history. Experience a taste of Old Florida in a home built in 1885 on land once covered in Florida citrus. The lakefront setting, the ever-blooming gardens, fluttering butterflies, and the sweet sound of chirping birds create a perfect setting for your Orlando area culinary adventure.
We offer a three-day, two-night Culinary Vacation Cooking Class Retreat exclusively to guests of the B&B featuring a variety of food experiences. Each day is steeped in rich flavors of fabulous foods…some familiar favorites and others not yet imagined. You'll join fellow guests in the kitchen for hands-on exploration of new flavors, spices, and fresh ingredients. We'll prepare a few B&B breakfast favorites, create new recipes together, learn secrets from a local French chef, and maybe even acquire some new techniques for successfully cooking in your own kitchen. Whatever your level of skill or passion for cooking, this Orlando Culinary Vacation is for you!
Your Culinary Retreat will only be complete once you've tried something you've never eaten before. And the best part, of course….after each lesson, you'll get to eat all the scrumptious meals you and your fellow culinary adventurers have created! New friends will be made as we engage in sumptuous, perhaps buttery, conversations around the table.
So, grab a buddy and some comfortable shoes, pack your bags, and experience a Central Florida Cooking School Vacation like no other!
Pricing: $199 per person (does not include lodging or taxes)
Call for upcoming dates. Maximum class size is 6 guests per session.