In 3 weeks it will be the end of the year 2013. Wouldn't you like to celebrate in some manner? First, book your room at Thurston House Bed & Breakfast, the perfect place to spend New Years Eve North Orlando Maitland. Don't worry, we do offer a later breakfast New Years Day!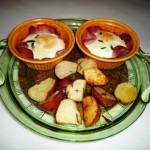 Next, decide how you want to spend your evening. Are you up for a wonderful dinner out? How about a fabulous dinner at Flemings Steak House? Would you rather order up a wonderful brick oven pizza from Antonio's Cafe and sit on the porch staring at the moon and the stars? You could drive over to Park Avenue in Winter Park and stroll around, stopping in at a variety of places for a bite here and a sip there. People watching is a favorite thing to do along the avenue! And it is only a short drive from our North Orlando Bed & breakfast!
James Bond is back at the Enzian Theater, a movie and a party too, just in time for New Years Eve North Orlando! You can stroll over to the theater from Thurston House in 10 minutes. Have a blast, enjoy the show, then end your evening back at our secluded small Central Florida bed & breakfast.