DISCOVER BLUE SPRING STATE PARK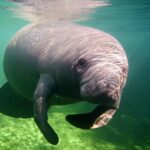 Looking for an outdoor adventure during your getaway to Central Florida? Florida State Parks proudly call themselves "…the Real Florida," and Blue Spring State Park is the crown jewel of Central Florida. Lucky for you, it's only a 30-minute drive from Thurston House Bed & Breakfast in Maitland.
A wide variety of outdoor recreation is readily available here in Central Florida—birding, hiking, lakes, swimming, paddling and more. According to Visit Central Florida, the region touts over 550 bodies of water, but the refreshing 72-degree waters of Blue Spring, along the St. Johns River, delights visitors year round. Blue Spring is considered a "first-magnitude" spring, discharging over 70 million gallons of water daily into the St. Johns River.
For hundreds of years, the Timacuan Indians made the spring area their home. The spring run, river, and surrounding swamps and uplands, provided food, clothing, shelter and materials for tools and weapons. First journaled in the 1700s, it later became a hub of community life when Louis Thursby built a house nearby in 1872. "Blue Spring Landing," was a busy port for steamboats transporting tourists and goods to Jacksonville and beyond, before the railroad came through.  A century later, a Jacques Cousteau documentary, called "The Forgotten Mermaids," was filmed there showing Blue Spring as a winter refuge for hundreds of manatee each year. Eventually, the State purchased the land in order to preserve this treasure.
Blue Spring State Park is spread over 2,643 acres within which are 21 natural communities, including 2 lagoons, a north-flowing river, and a first-magnitude spring. This diversity of habitats allows for a vast diversity of flora and fauna. In addition to more than 300 West Indian manatee each winter, Blue Spring is the habitat for at least 15 threatened or endangered plants and animals. On a guided hike or boat tour, keep an eye out for gopher tortoise, Florida scrub jay, herons, sunfish, alligator, osprey and a slew of other wildlife.
ADVENTURES AT BLUE SPRING STATE PARK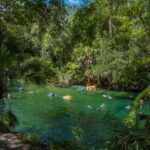 Blue Spring State Park offers as much diversity of fun as it does nature. A self-guided boardwalk leads visitors through a lush hammock to Blue Spring. An observation platform provides a view of the endangered manatees which leave the colder waters of the St. Johns River for the safety and comfort of the 72-degree spring—primarily from November through March. Visitors can also swim, tube, snorkel, dive, and kayak in the perfectly refreshing water, even in summertime. Three pavilions offer areas to picnic, barbeque or sunbathe, and there are numerous trails for biking, walking and hiking. There are also boat ramps and camp sites.
For the ultimate Blue Spring experience, why not scout for that illusive Florida scrub jay while a professional nature guide pilots the boat down the St. Johns River narrating the history and beauty of your surroundings? Thurston House offers a river cruise package with food, drinks and all the supplies you'll need for a carefree adventure in nature. Grab your binoculars or camera and board a covered pontoon for a two-hour narrated cruise. St. Johns River Cruises has become the latest Florida eco-tour provider to successfully complete the Florida Society for Ethical Ecotourism's rigorous certification program and was awarded the prestigious Platinum Level Certification for meeting over 90% of the bonus criteria on the society's checklist. You'll discover the secrets of Blue Spring aided by the trained eyes of your guide. You're in good hands!
For a real "up-close-and-personal" adventure, choose a 2-hour guided kayak tour with an experienced river guide. These small group tours of up to 10 people allow for more specialized attention to guests and a closer look at breathtaking wildlife.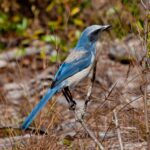 FISHING, BIRDING, DIVING, AND HIKING AT BLUE SPRING
Looking to get some fishing in? Great idea! Bring your fishing supplies and fish from the dock on the St. Johns River. Popular catches include flounder, snook, redfish, catfish, bass, bluegill, and crappie. Be sure to pick up a Florida fishing license before heading to the park.
For bird enthusiasts, Blue Spring State Park is on the Great Florida Birding Trail. A great spot to see native and migrating birds! The protected Florida scrub jay, the only bird species that exclusively lives in Florida, nests among the low growing oak scrub and flatwoods inside the park. Visitors can often hear their singing while hiking the Pine Island Trail.
Diving is allowed in Blue Spring Park, except from November through March when manatees are present. Certified divers can now enjoy Blue Spring and all of its underwater habitats. Divers must show proof of certification and have a dive partner. Only those certified in cave diving will be allowed into those underwater structures. Florida Dive Company offers a guided underwater discovery tour. For more information, call 386-663-8030.
You'd rather walk or hike? There are a couple of noteworthy trails at Blue Spring State Park just for you. Pine Island Trail is a moderate 5-mile trail that travels through the sand pine scrub, flatwoods, freshwater marsh and out to St. Johns River. Blue Spring Boardwalk Trail is an easy 1-mile trail along the wooden boardwalk that runs parallel to Blue Spring Run. Viewing decks are located along the path to showcase the manatees, sea turtles and other sea life. Picnic tables and a concession are located in the middle.
VISITING BLUE SPRING STATE PARK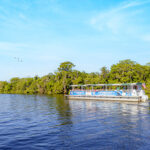 Blue Spring State Park is located about 30 minutes north of Thurston House, at 2100 W. French Ave, Orange City, Florida. Getting to the park from our Orlando-area bed and breakfast is easy. Head north on I-4, then take Hwy 17-92 to Orange City. The Park entrance is a few miles west on French Avenue. The park is open daily and river cruises depart twice a day at 10 am and 1 pm. Learn more about Blue Spring State Park online at FloridaStateParks.org.
Thurston House, our historic bed and breakfast near Orlando, is here to help you make the most of your Central Florida adventures! Add our Nature Lover's River Cruise Package when booking your accommodations, for a stress-free nature adventure. We've got you covered with a picnic lunch, drinks, and sunscreen—even binoculars for getting a better look at that blue heron in the marsh!
Even if you're one who prefers to go it alone, let us know if we can assist with gear rental, directions, or suggestions for your day's itinerary. Thurston House is here to help you have a fabulous Central Florida vacation!