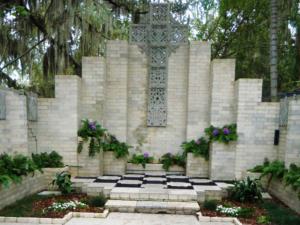 I am proud to announce that the Maitland Art Center has become the first National Historic Landmark in Orange County and the 44th National Historic Landmark in the state of Florida. Just awarded yesterday, this designation applies to places that "exceptionally illustrate or interpret the heritage of the United States." The center is one of the few remaining examples of "fantasy architecture" in the Southeast. It's Mayan details make it pleasure to stroll around the grounds and is a real treat for photographers!
Founded in 1937 by visionary artist and architect Jules André Smith the A&H's Maitland Art Center is built in the very rare Mayan Revival style. It was built as an art colony, providing a place for artists to live and to further experiment in their medium.
Today the center has beautiful gardens, ongoing exhibits and continuing education in the arts available in many different mediums. The outdoor chapel has been the location for many weddings, and the courtyards often host special events. The lobby store has many unique gift items featuring local artists, some who have taken advantage of working in one of the buildings at the center.
Thurston House bed & breakfast has hosted wedding couples for their special night after their ceremony at the center. Wouldn't this be special for someone you know? Book now!