Keeping up with the latest trends, Thurston House Bed & Breakfast Inn in the Maitland Winter Park area has just installed two Tesla charging stations. Experience the newest in technology with your car hooked up for the night, while enjoying the ambience of the true old Florida. Entering our property is like stepping back into time. We are surrounded by 8 acres of lush land overlooking little Lake Eulalia. Sit rocking on the wraparound porch and watch the birds chase each other from tree to tree, note the many varieties of butterflies fluttering from flower to flower, stroll around the yard enjoying  the natural landscape, then end up at the tucked away covered swing…
Your bed & breakfast stay provides complimentary use of the Tesla Charging Stations at North Orlando Inn, a beautiful room to stay in overnight, free Wi Fi throughout the building, a cheese & beverage snack at 5pm every day and a bountiful breakfast each morning.  Minutes away you will find great restaurants, shopping, antiques, parks  and museums. There is even a Tesla Showroom only one mile away! Don't you need to book now?
So far we have had a white Tesla, a silver Tesla and a black Tesla. Is yours the next one?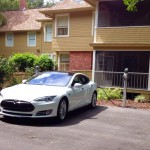 Tesla Charging Stations at North Orlando Inn – in use on the first day!