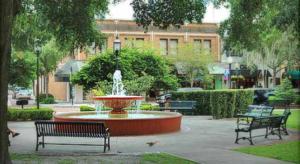 Winter Park Arts Festival 2016 is almost upon us. This year the show is on the dates – 3/18-19-20. The Festival features a wide variety of fine arts and crafts including the categories of clay, digital art, drawings & pastels, fiber, glass, graphics & printmaking, jewelry, leather, metal, mixed media 2D, mixed media 3D, painting, photography, sculpture, watercolor and wood. Attendees travel from far and wide to go to this well known and respected art show.
Winter Park Arts Festival 2016 is held along Park Avenue, an area well known for wonderful shops, wine stores and eateries. Guests at Thurston House, the only Winter Park area bed & breakfast, love that we are located so close to the show, yet in a quiet setting amid 8 acres of lakefront land.
After a busy day enjoying the beautiful show art and perhaps making a purchase or two, the guests gather back on the wraparound porch sipping a beverage and enjoying the complimentary 5pm snack. Winter Park Arts Festival 2016 will once again bring a full house of guests here to Thurston House.