YOUR CULINARY VACATION INCLUDES: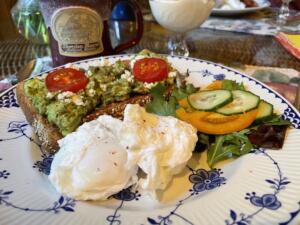 Three days of fun Culinary Experiences beginning with early check-in (2:00PM) Monday afternoon and ending around noon on Wednesday.
Two nights queen accommodations, with ensuite bath, at Thurston House (lodging at separate cost from cooking vacation package).
Snacks and drinks upon arrival while you settle in.
Breakfasts and Dinners, as well as plenty to nibble on in between during cooking classes.
All stays include hands-on cooking classes in the Thurston House kitchen for breakfast each morning and hands-on cooking classes each afternoon before dinner, which we will enjoy in community. Most of these classes are taught by Bev, the inn's owner (and lover of all things edible).
A field trip to a local farmer's market to select fresh (harvested-same-day) produce, eggs, meats, etc. for our recipes.
An in-house cooking class taught by Catherine Delrieu, an award-winning French Chef (winner of the Orlando Signature Dish competition, 2017, for her Honey Nougat Glace); class includes both hands-on and demonstration; dinner will follow, including all the deliciousness we've just prepared.
Plenty of beverages to enjoy…teas, coffees, sparkling waters, juices, sodas, etc. If you would like wine with dinner, please bring some favorite vintages. (There's also a local market with good selections.)
Dessert!…there's always dessert!
Copies of all recipes we prepare together.
A souvenir apron as a memento of your Culinary Vacation at Thurston House.
A few other surprise "party favors" to take with you.
A maximum of 6 culinary vacationers/students to ensure plenty of elbow room and attention (minimum of 4).
Hours of fun, friends, learning, laughing, and fabulous food made by you!
CULINARY VACATION PACKAGE: $199 Per Person (not including taxes or lodging)
Call to sign up! 407-539-1911