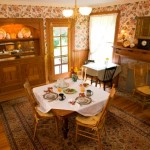 Not often does a special this good come along. Thurston House in North Orlando, Maitland is offering a 30% discount for reservations booked by 6/20. Everyone loves a deal, and when it has to do with a two night stay at a lovely bed & breakfast, all the better! Book by the end of day June 20th for a two night stay and receive a 30% dicounted price! This deal is only available for August 16-26, and October 1-31. Rooms must be prepaid in full, and there is no cancellation allowed. Enjoy the best of Central Florida with many special places to see, areas for shopping and great dining options. This great deal may only come once in a lifetime so BOOK NOW! When you book online, the innkeeper will make the neccesary adjustments then send an updated reservation confirmation to you. Or…you can just call and take care of it.
The August dates will show you Sizzling Central Florida Summer at its best! The October dates will introduce you to foliage, Florida style. The Golden Rain trees will show off their fall colors just for you. There are also two arts festivals the month of October – The Maitland Rotary Art Under the Stars 10/5-7 and the Winter Park Autumn Art Festival 10/13-14.
With such a great deal you'll have plenty of money left for enjoying all that Central Florida offers to you! HURRY!