RECIPE: BLUEBERRY BREAD PUDDING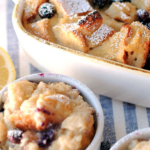 Many of you have requested the recipe for the breakfast bread pudding you enjoyed while staying at Thurston House. I use croissants in this because I like the texture and because they fit the breakfast theme. You could certainly use challah bread or leftover waffles if you prefer.
And what about those fresh blueberries…that seem sweeter when they're warm and bursting in your mouth. As with most things, if you can time everything to serve this right out of the oven, then even better!
On the other hand, you could simply come back to our Central Florida bed & breakfast, and I'll make it for you! Either way… Bon Appétit!                                 
4 servings/ Bake at 360 degrees
Ingredients:
2 eggs
1 cup whole milk or half & half
1 T. vanilla
1 T. orange juice (optional)
2 T. brown sugar (or regular white)
½ tsp. cinnamon
2-3 large croissants (or 5-6 small)
1 cup fresh blueberries
Garnish (optional):
sliced almonds
sliced pear
maple syrup
Preheat oven. Coat baking dishes with non-stick cooking spray. You can use four individual ramekins or a medium casserole dish depending on the presentation you want. The method is the same.
Combine the first six ingredients and whisk together until the sugar seems dissolved. Tear croissants into small pieces and layer about half into dish. Sprinkle about half of the berries and repeat with remaining bread and berries. Pour the custard mixture over the layers and press the bread down with fingers until all bread is wet.
Before baking, I like to add a few slices of pear on top along with a sprinkle of almonds. Before putting in the oven, let dish sit for 5 minutes to allow bread to soak up as much liquid as possible. Bake at 360 degrees for 20-30 minutes depending on the size of dish you chose. The middle of the bread pudding should seem baked but still moist. Drizzle just a little real maple syrup on top and serve.