ROLLINS COLLEGE MUSEUM OF ART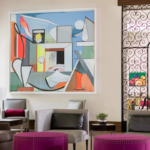 If you're an art lover and exploring art in the Orlando area, you'll definitely want to include the Rollins Museum of Art on your itinerary. The museum, located on the Rollins College campus in Winter Park, is a hidden gem with more than 5600 works in its collection.
Central Florida attracts many adventurers looking for art, culture and entertainment. If you are one, numerous art collections are worthy of your attention, including the Mennello Museum of American Art, Orlando Museum of Art, the Albin Polasek Museum & Sculpture Gardens, and the Charles Hosmer Morse Museum of American Art, to name a few.
The Rollins Museum of Art ranks high among this list featuring rotating exhibitions, ongoing programs, and an extensive permanent collection that spans centuries. Its holdings include a sizable American art collection and the only European Old Master paintings in the Orlando area. Fortunately, for guests of Thurston House, these discoveries are all within a few miles of the inn.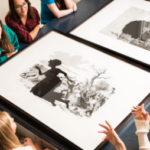 The museum's mission is to be "a teaching museum that stimulates transformative encounters with works of art while integrating art learning into daily life for campus and community."
With education at its core, RMA, the only campus art museum in the greater Orlando area, offers numerous programs that allow visitors to engage with art, not just view it. Programs are designed for K-12 and college students as well as adults and families in the Central Florida area. There are docent-led tours, workshops, films, and hands-on activities available on an ongoing basis.
A CERTAIN FUTURE IN CENTRAL FLORIDA
Rollins Art Museum was one of Florida's first college museums to be accredited by the American Association of Museums in 1981, and it continues as one of only four AAM-accredited museums in the greater Orlando area. With committed support of the College and its friends, the Museum will dramatically expand the scope of its influence in the next few years when it breaks ground on a contemporary 30,000 square-foot future home. This $25 million project will offer the museum the much-needed space to curate its rapidly-growing collection and expand its outreach and teaching programs.
VISITING ROLLINS MUSEUM OF ART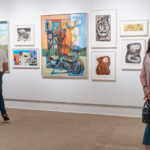 Visitors to the museum will discover a broad range of media, periods and styles. Exhibits include its permanent, but rapidly-growing, collection of more than 5600 works and its limited seasonal exhibitions. Collection strengths lie in European, American, and contemporary art from the Renaissance to today.
Rollins Museum of Art in Winter Park offers docent-led museum tours on Saturday afternoons at 1:00 & 3:00 PM. These tours highlight works from their current exhibitions.
The museum is open to the public year round (except Mondays and a few holidays) and admission is free thanks to RMA members. Be sure to stop by the Museum Shop which helps support the Rollins Museum of Art.
GETTING THERE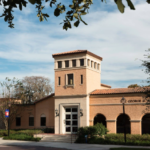 The Rollins Museum of Art is located on the Rollins College campus in the city of Winter Park at the east end of Holt Ave. There are a limited number of designated museum visitor parking spaces adjacent to the Museum on Holt Ave. Free parking is also available at the Truist Parking Garage at Lyman Avenue with a validated ticket from the Museum and at the Rollins Parking Garage, located at the corner of Fairbanks and Ollie Avenues.
The heart of the Rollins College area in Winter Park is home to a symphony of experiences to enjoy. Within a mile's radius, you can take in the Albin Polasek Museum & Sculpture Gardens and the Charles Hosmer Morse Museum to name a few. The area is also home to the well-appointed Park Avenue with its cozy cafes, luxurious shops, fine art galleries, and popular restaurants.
Spend the day indulging in art and exploring the Orlando area before heading back to your quiet room at Thurston House. You might even have time to sneak in a nap in the hammock before your local dinner reservation. It doesn't get better than this!
Visit Rollins Museum of Art online at www.rollins.edu/rma/.